What is de difference betweer a llama and an alpaca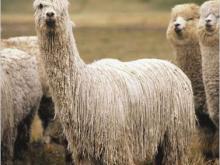 Throughout the hills and valleys of central Peru you´ll find fluffy camelids going about their business, chewing the scenary and eyeing up passers-by. But what exactly distinguishes a llama from an alpaca?
Firstly, the former is biggergrowing up to 6ft tall. compared to alpacas 5ft.
Secondly, alpacas have small, fluffy faces with short muzzles and straight, pointy ears, whereas llamas have elongated faces and long curved ears. And finally, if you get close enought to stroke them, you´ll find the alpaca is much softer than the llama´s coarse coat,